Book Blurb:
A fallen boxer.
A woman with a broken dream.
A competition…

He even makes me forget my name. One night was all it took, and I forgot everything and anything except the sexy fighter in the ring who sets my mind ablaze and my body on fire with wanting…

Remington Tate is the strongest, most confusing man I've ever met in my life.

He's the star of the dangerous underground fighting circuit, and I'm drawn to him as I've never been drawn to anything in my life. I forget who I am, what I want, with just one look from him. When he's near, I need to remind myself that I am strong–but he is stronger. And now it's my job to keep his body working like a perfect machine, his taut muscles primed and ready to break the bones of his next opponents . . .

But the one he's most threatening to, now, is me.

I want him. I want him without fear. Without reservations.

If only I knew for sure what it is that he wants from me?

REAL – April 9 2013

Book #1 of The Real, Raw & Ripped Series

Mature New Adult/Adult Contemporary Romance - recommended for ages 18 and up.
Angie J's Review:
I was given a copy of this book by my friend Jay who won 2 ebooks from the author. I was thrilled because this was a book I have seen getting a lot of buzz and I wanted to check it out. So a free book rocks out right!!?? OMG I need to drop down to my knees and kiss Jay. This book was so intense and emotional. I love love love emotional reads and Remy didn't disappoint.
This book is about a hot underground fighter who sees Brooke standing with her friend. He literally jumps out of the ring to go talk to her. She thinks he is a hot guy and tells him her name but her friend gives him her phone number. She never expects to see him again but when someone shows up with expensive ring side seats she goes. She plans on having a fun one night stand because she has never had much of a social life because of training for the Olympics. Imagine her shock when he doesn't want her THAT way but as an employee!!????
The chemistry between the 2 is sooo thick and crazy intense. Remy has a secret in his closet and he is afraid of her finding out. He starts a slow seduction of Brooke. He has had a terrible upbringing and uses music as a way to express himself. When Remy's "secret" is spilled I just wanted to hug him. He is such a little boy in an adult mans body. He is emotionally stunted and is so afraid of being left. He keeps questioning Brooke to make sure she wont leave him. He keeps asking her "are you mine?' It is so sad and heartbreaking. Brooke on the other hand is so afraid of the connection that she tends to keep closed off. She is afraid of this love she knows she has for him. I was a little bit annoyed with her. She KNOWS what is wrong with him and knows he is the "needy" one in the relationship. It kinda made me angry that she didn't open up a bit more to him knowing he needs her too....but then again I totally wanted to snuggle with Remy and make him feel better :)
I liked the plot when Brooke's sister and how Remy and the team are trying to help get her back. I also loved Mel and Riley's love/hate relationship. I can't wait to see them in their book. But my favorite part of the book, hands down is the epilogue. Seeing everything from Remy's point of view was awesome. Ok wait....better rephrase this last statement, my 2nd favorite part of the book is the epilogue. Any and allll of the "intimate scenes' were defo my favorite. Remy is a hot male...scratch that...hot Lion. I think his Alpha Male persona is something I am very very drawn too.
This is Remy's motto--read to understand peps!
HOLY FREAKING HOTNESS!!!

It had me just from the cover!!

WOW!!

Bad boy, tattoo, underground boxer, alpha, blue eyes…… yeah there's nothing wrong with any of those words!!!
Brooke Dumas is trying to get her life back after a horrific injury that prevented her from her dream of running in the Olympics.

She's now just finished college and is looking for a job.

Her BFF talks her going to an underground boxing match to check out a hot boxer by the name of Remington "Riptide" Tate (Remy)…from the first look she's mesmerized by him.

And with all of the people watching Remy – he sees her.

When the punching gets too much for her she leaves.

Remy notices her leaving and knocks his opponent out that fast and jumps out of the ring to catch her.

He's alpha right from the start….
This book was so hot.

Even without sex for the first 50+%, it was hot!

Some of the hottest kissing scenes EVER!!

He's quiet and can't express his feelings through words, so he picks songs for her to listen to.

He also likes to stake his claim by "licking"….. like a lion…… oh it's hot!

Just you wait and see….. (wiping brow and fanning self)
I like to highlight quotes as I read and I had so many quotes from this book!!

Here are some of my favorites:
I think I like him, and I dislike that I do.
I think I want him, and hate that I do.
"When I take you, you'll be mine."

He says, a soft promise in my ear.

He slides his thumb along my jaw, then gently kisses my earlobe.

"You need to be certain."

His eyes are so hot that I'm on fire with the lust in them, and the word "mine" makes the empty place between my legs swell with longing.

"I want you to know me first, and then, I want you to let me know if you still want me to take you."
I love him.

He's not just a star, he's the whole fucking sky to me.

He's the sun and every planet in this galaxy.
He's my beast.

My dark and my light.

Mine.
What did I tell you?

Just by these quotes, don't you want to read this book?

I cannot wait for the second book which comes out in June!
Lovableness of couple: 5 stars
·
Would I re-read this book: YES – OMG YES!
·
Would I read future books by this author: Absolutely Yes
·
Was there a cliffhanger: no
·
Do I love the characters: YES
·
Do I want more of their story: yes!

June can't come soon enough!
·
Is this part of a series: Yes, this is book 1 of 3


About the Author: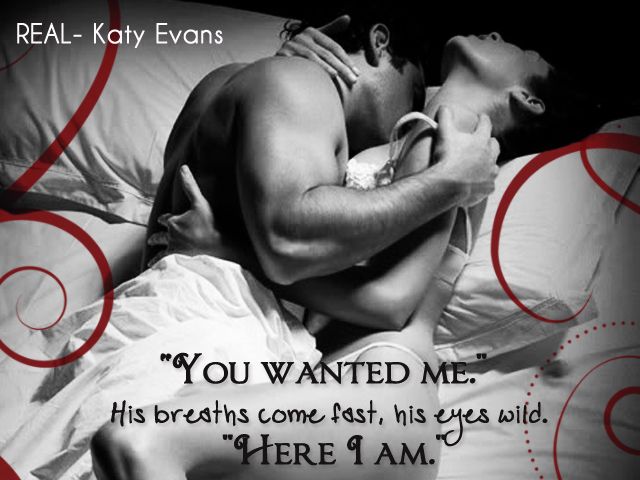 Hey! I'm Katy Evans and I love family, books, life, and love. I'm married with two children and three dogs and spend my time baking, walking, writing, reading, and taking care of my family. Thank you for spending your time with me and picking up my story. I hope you had an amazing time with it, like I did. If you'd like to know more about books in progress, look me up on the Internet, I'd love to hear from you!
Buy Links:
Coming soon to a Target near you