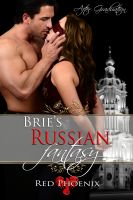 Book Blurb:
Russian intrigue, startling revelations, and submissive enlightenment… Brie's trip to Russia exceeds her wildest dreams. The bond between Master and Brie grows deeper as he opens up about his mysterious past. While the Russian Dom, Rytsar Donkova, reveals his true nature, introducing the young submissive to a different side of BDSM.

The third novelette of the' After Graduation' series takes Brie on a journey overseas where unspoken desires, exploration and love know no bounds.

Extended Description:

Brie is thrilled to join Master on a trip across the ocean. Before she leaves, Brie is given insider information about Ms. Clark, tries to impress Marquis Gray, and takes her Master to meet the parents. The excitement doesn't stop there as Master reveals more of his painful history and Rytsar challenges her darker desires. The trip to Russia would not be complete without her ultimate fantasy coming true…

Adult Material (18+)

Warning: This book contains sexually explicit content and scenes that some readers may find objectionable.

I was given this book from the author.

Holy Hawtness this was amazing!! I am in love with this series so I may be a bit bias???? No not bias just know amazing writing when I read it....LOL :)

I was way excited to read this book because I find Rytsar mega hot and knowing Brie was going to be in Russian with him and Sir...SOLD!!! I will say I was a bit shocked to find out he was a sadist. I didn't imagine him that way and TBH he kinda made me nervous then...sooo not a pain girl.

I loved getting to know Sir in a more personal way. I loved finding out the back story on how he and Sir met. It was a hilarious scene when they were playing chess and Rytsar cheated....LOL I have to admit the last chapter was my favorite with Brie, Sir and Rytsar. I will not even begin to tell you because you DEFO need to read it to appreciate it....giggles.

I was sad to see the way Brie's parents feel about Brie and Sir. I understand any parent would be concerned but I felt they were way over the top in how they reacted to the couple. I was also a bit sad for Ms. Clark...yes I was sad for her.....the back story made me feel for her.....unrequited love sucks. Wanna know who she loves??? READ THE BOOK!!!!!

Ok my favorite parts were seeing Lea again. I love how playful she is and finding out who she has some "feelings" for...wowzers!!! Major interesting plot spinner...LOL. OMG and Brie cooking for Gray was also a great part of the book....seems Sir has a funny side to him. I also loved the last line...Red is such a good cliffhanger/teaser that I am busting at the seams to know "WHAT HAPPENED!!!!"

If you are a fan of this series, this is a great addition. If you haven't read this series PLEASE start with Brie Learns the Art of Submission at the Training center...you will not be let down!!